PROPERLY INSPECTED HOME INSPECTION SERVICES
THE PEACE OF MIND HOMEBUYERS DESERVE
Ask About Our 120 Day Warranty!
Congratulations on your new investment! It was smart to have your home inspected by a professional who has thoroughly evaluated your property and pointed out problem areas for you. Between the inspection and this Complete Protection (CP) 120- day warranty you can proceed without worrying about an unexpected repair bill or a major appliance replacement.
CP protects any part that is inside the sheet-metal skin of your appliances. We also have no exclusions for age, rust, lack of maintenance, or unknown preexisting conditions.
If you need a repair you may use a local techician of your choice or a local professional from our service referral network. CP is staffed 24 hours a day, 365 days a year for questions and claims.
CP pays 100% of the repair costs (parts and labor); there is no deductible for you to pay when a servicer comes out. CP has a guaranteed reimbursement toward the replacement of protected appliances.
A Professional and Affordable Home Inspection
Properly Inspected Home Inspection Services, owned by Matthew Friesz, understands that a home is a major purchase and investment. It makes sense that buyers want to save money wherever they can. Keep in mind that all home inspectors are different, coming from different backgrounds and having different priorities. While it is tempting to simply hire the cheapest inspector you can find, this will often lead to defects in the home going unnoticed and costing you even more than the inspection cost to begin with. The entire Properly Inspected team takes our jobs and responsibility to the client seriously, so call us about your home inspection needs today!
Florida State Insurance Inspections
Florida's unique weather conditions and the rising number of older homes being bought and sold means that more and more insurance providers are requiring certain inspection services before drawing a policy. Properly Inspected Home Inspection Services offers both 4 Point Inspections and Wind Mitigation Inspections.
If the home is older than 25 years old, most insurance companies in Florida require a 4 point inspection. Your insurance company wants to know that the 4 main points of the home (Roof, Electrical, Plumbing and HVAC) are in good and in safe working order.
WIND MITIGATION INSPECTION
Your insurance company wants to know the age, shape and type of roof, how well the roof is connected to the walls, (either by toe nails (16 penny nails) or hurricane clips or straps), how well the sheathing is secured to the trusses, what type of nails were used, and if the openings of the house (windows, doors and garage door/s) have hurricane impact resistance ratings. A wind mitigation inspection can help lower your home owner's insurance policy premiums.
Our digital inspection reports are super-powered with 360° photos. You'll be able to virtually re-visit the property we inspected from the comfort of your home.
This is a feature you won't find anywhere else! To try it out, click and drag the photo above.
We offer a discount of $25 off for active military, veterans, and repeat business!
Proudly serving the Tampa Bay area
Including Pinellas, Hillsborough, Pasco, Hernando, and Manatee Counties
Our State-of-the-Art Tools Uncover What the Naked Eye Can't
Home inspectors are only human, so there are limitations to what they are able to see during a visual home inspection. Fortunately, our company's dedication to using the industry's best tools and technology means that we can inspect what the naked eye can't. Our tools – listed below – allow us to inspect unwalkable roofs, see thermal images of the home's surfaces, find hidden moisture intrusion, and provide you with images of the home from wide angles. Learn more about these tools and their related services on our services page.
Thermal Imaging Camera
Aerial Drone
360° Camera
Moisture Meter
Visual & Informative Reports
After we walk through the home together, we will explain the general condition of the home and systems with you and your agent. We will talk through any major issues that need to be addressed sooner rather than later. We will also mention the items that you will want to keep an eye on for deferred maintenance. All of this will be detailed in our easy-to-read Spectora report, which will be delivered in HTML and/or PDF format. From that report, you will be able to see the items we discussed, with images for reference.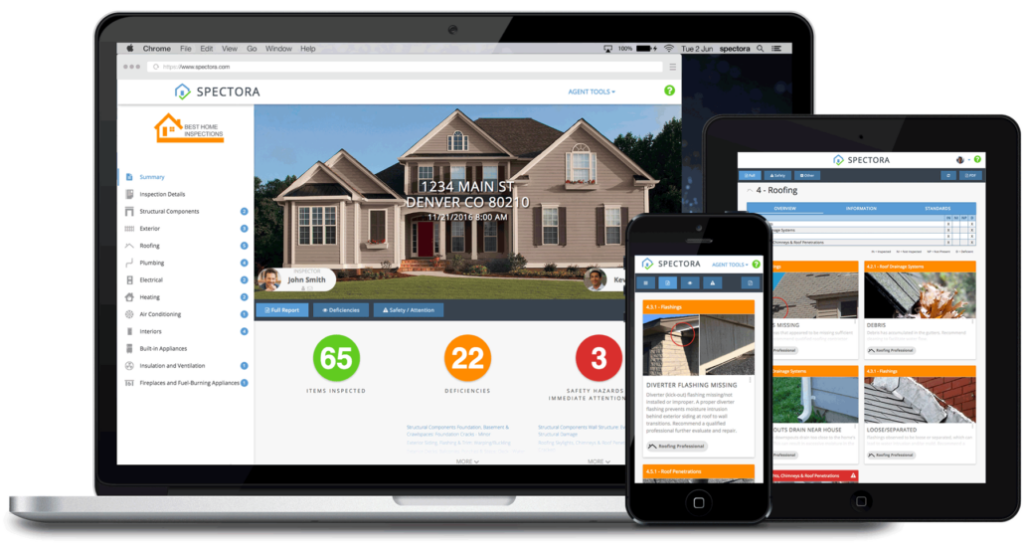 Modern Reports Clients & Agents Appreciate
High-quality images in HTML and PDF formats so you can quickly see what's important.
We will send you an email with a link to the report.
Our full, visual report is delivered within 24 hours of the inspection.
Our modern reports can be viewed on your phone or tablet.
Our reports feature a Repair Request Document generator for our agent partners. This helps agents quickly grab our language to copy/paste into their document to ask for repairs or concessions.